Cross posted from
Georgia Crime Watch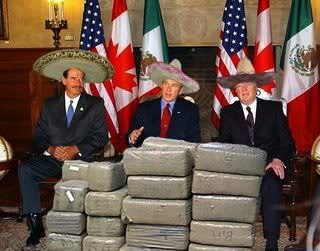 **CRIME**
$3m and 200 kilos of cocaine seized from Forsyth business
Lopez is alleged to have directed the loading of a cocaine shipment in Texas. Urbina is alleged to have driven a cocaine shipment from Texas to the Crown Fence warehouse, and Longoria is alleged to have supervised and participated in the off-loading of cocaine at the warehouse. Longoria and Urbina were arrested on May 3, 2007. Lopez was arrested on May 8, 2007.
Immigration deal being negotiated
The Bush administration and key senators are struggling to agree on draft legislation to secure the U.S.-Mexico border before putting millions of illegal immigrants on a path to citizenship that could take 13 years.
Can someone please tell me why the hell we are wasting time listening to illegal immigrants whine about
out-of-state college tuition
?

Some angry over tuition rule change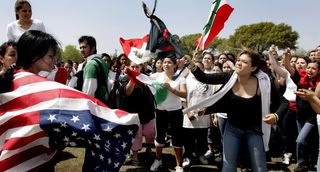 **YOUR TAX DOLLARS AT WORK (for illegal immigrants)**
Five Hall schools to receive
English language labs
System Superintendent Will Schofield says more needs to be done to teach immigrant students the English language...
Illegal immigrants from Guatemala
drown in Lake Sidney Lanier
over the weekend. Family members for one of the men will not talk to police, because
they are also illegal
...so guess who gets to bury the bodies? American Tax Payers!
**LAW**
Here's a rundown from D.A. King and the Dustin Inman Society on the status of Georgia's most recent illegal immigration bills:
SB 15: Increases penalty for driving without a license.
Passed
- but not signed by Governor Perdue, yet.
SB 23: Clarifies that judges and parole board members can consider criminal's immigration status.
Passed
SB 38: Requires Georgia driver's license or ID card to receive car tag.
Passed
- but also not signed by Governor Perdue, yet.
SB 100: Increases penalties for manufacturing, selling or distributing fake IDs that illegal aliens use daily.
Passed
HB 21: Prohibits government from printing official documents in any language other than English.
No final vote
- still in committee
HB 43: Requires Georgia voters to prove they are U.S. citizens when registering to vote.
Failed
.
HB 72: Requires colleges and universities to more closely track foreign students.
Failed
.
HB 274: Tightens requirements for becoming a notary public, including proof of legal immigration status.
Passed
.
HB 472: Clarifies that insurance companies can provide policies in languages other than English.
Failed
.
HB 605: Kills law barring government hiring of foreign nationals for jobs U.S. citizens can do.
Failed
.
HR 127: Urges the U.S. Congress to halt birthright citizenship for children ( Anchor babies) of illegal aliens.
Failed
.
SR 124: Resolution opposing any U.S. involvement in the Security and Prosperity Partnership and open borders with that paradise to our south...Mexico, as well as Canada.
Failed
.
**ACTION ALERT**
The open borders lobby is getting ready to campaign Governor Perdue, urging him to not sign the approved legislation.
If you have not already done so, please make a quick call to the Governor asking him to please sign SB15, SB38 and SB100. (Yes, GACW already has)
(404-656-1776)
Thank you!!!
**COALITION AGAINST ILLEGAL IMMIGRATION**
Bear Creek Ledger:
It's their duty
...
Illegal Aliens Must Go: Message from Farmer's Branch, TX:
Illegal Aliens, Get Out!
**This was a production of
The Coalition
Against Illegal Immigration
(CAII). If you would like to
participate, please go to the above link to learn more. Afterwards,
email stiknstein-at-gmail-dot-com and let us know at what level you
would like to participate.
Technorati Tags:
illegal aliens
,
illegal immigration
,
news
,
politics
,
crime
,
border
,
border security