Cross posted from Georgia Crime Watch
Well, well, well…A Gainesville, Georgia church is destroyed by vandals. Tell me, readers - what does the graffiti say?
Sur-13, BOE, Three dots in triangle formation
What does it mean?
Sur = Surenos=South
13=M (13th letter of Alphabet) = Mexico
Mi Vida Loca= 'My Crazy Life' = A common phrase among Mexican gangsters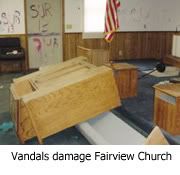 Church member Allan Burnette found the walls painted with gang like emblems including SUR-13 and BOE, but investigators believe the vandals were mimicking gang graffiti.
Regardless if these kids are truly gang members…(yet) - what does this say about our city, our culture, parenting skills or the environment in which these kids are living?

Let me assure you - this trend did NOT come from America…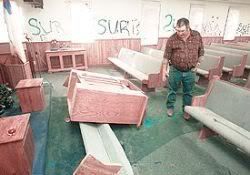 …And it is not something that is going away anytime soon. Big Corporations are using 'gangsta style' in almost everything now. This criminal life is now glamorized, marketed and wrapped in neat, little packages…ready for your store shelves, but very much marketed for your children. The images of gang monickers, terms, colors, and initials are burned into the likes of tennis shoes, sportswear, clothing styles, music CD's and video games.

To a bored teenager, the image of a gangsta' life is appealing, exciting, inviting…
America's open border with Mexico has allowed this trend to gain momentum. Get used to it, parents - this violent Gangsta' culture is here to stay. If you are not paying attention, it may be your kids spray painting graffiti and partaking in the next drive-by shooting…
…Gwinnett county residents are still trying to fight the installation of the 'Daisy Fiesta' pool hall.
Gwinnett County Police Lt. Roger Dewitt, who attended Wednesday's meeting, said if the restaurant was constructed as planned, it would attract gangs, not families.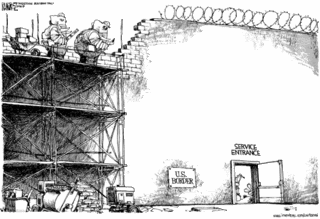 **VIDEO OF THE DAY**
Dashcam footage of Macon, GA traffic stop
Macon, GA: Authorities detain 19 in traffic stop
Illegal immigrants turned over to federal immigration agents
**GANG WATCH**
CA: LA targets city's worst gangs to combat rising violence
TX: Gang crime spreads to northern, southern Fort Worth
**COALITION AGAINST ILLEGAL IMMIGRATION**
Liberally Conservative: BOA Illegal Immigrant Program STAYS!
**This was a production of The Coalition
Against Illegal Immigration(CAII). If you would like to
participate, please go to the above link to learn more. Afterwards,
email stiknstein-at-gmail-dot-com and let us know at what level you
would like to participate.