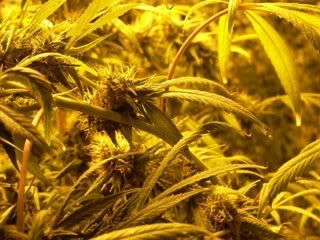 **CRIME**

Officials have seized 52,000 plants in raids


Authorities are looking for one homeowner, listed as Luis R. Rojas-Argote...Gwinnett County authorities have arrested eight people...Fayette County sheriff's officials have rounded up at least 25 people, including the suspected ringleader, 35-year-old Merquiades Martinez.
Suspected 'Grow House' Mastermind Arrested
Walton County authorities have arrested a man suspected of being one of the ring leaders of more than a dozen marijuana grow houses in metro Atlanta.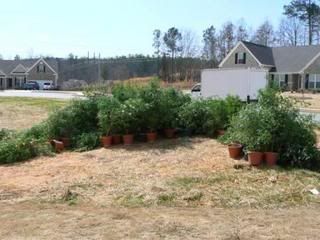 Suspected 'grow house' ringleader in custody
Juan Martin Lopez...faces a string of charges including conspiracy to cultivate marijuana and conspiracy to traffic marijuana.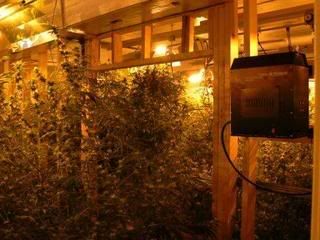 Another pot 'farm' busted
Juan Guevera-Millian is charged with counts of manufacturing and distributing marijuana
Insurance office robbed
...two Hispanic men entered the office about 4:45, one armed with a gun and one with a knife.
Mr. Eggroll employee killed during robbery
Julio S. Ajanel of Guatemala...[was acosted by]...two armed [men] with handguns and one of the men followed Ajanel to the back of the store and demanded money.
"Ajanel did not speak English and did not respond," Moloney said.
Investigators believe the man fired at Ajanel, striking him numerous times.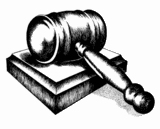 **LAW**BEWARE:
If you require your Hispanic employees to speak English, they may
SUE YOU
AND
WIN
.
The lawsuit accused the school of requiring the housekeepers to learn English in 60 days or risk termination and to speak and understand some English to keep their positions.
**EDUCATION**
American schools are struggling to educate Mexico's children. Instead of eliminating birthright citizenship for illegal aliens, or at the very least, teaching these children English, our American Public Schools are taking the easy way out. They are now accepting
Spanish language textbooks from MEXICO
.
This is part of a concerted program to educate Hispanic children in the United States, and to help the United States make the transition into a bicultural society this century. It is a way of understanding that Mexican culture is expanding across the border, that it is in ascendance, and that Hispanic and Latino children in the United States will never be blond, blue-eyed Anglos."-Raquel Romero, director of Mesoamerica Foundation
**GANG WATCH**
CA:
Crime rates in Ventura on rise
The number of gang-related crimes in Ventura more than doubled in 2006, to 418 from 151 in 2005.
DC/MD:
Casting a Wider Net to Battle Gang Crime
Spurred by reports from prosecutors throughout Maryland that gang activity is occurring from the Eastern Shore to Catoctin Mountain, two state lawmakers are proposing legislation that would give state prosecutors greater latitude in going after gang members involved in crimes.
FL:
Miami-Dade 2006 Crime: Murder Rate Is Up
Police say most of the 89 murders are attributed to gangs. Police have identified 617 gang members, but were only able to arrest 113 of them.
GA:
DeKalb Police Beef Up Gang Unit
Bolton is warning DeKalb parents that they will he held accountable if their kids break curfew, skip school or act up at the mall and he told parents to think twice before dropping teens off at malls with no other purpose than just to hang out.
**COALITION AGAINST ILLEGAL IMMIGRATION**
Bear Creek Ledger:
Illegal Aliens - Doin' the Job Americans Won't Do
StikNStein:
Illegal Immigrant Arrests DOWN
...
**This was a production of
The Coalition
Against Illegal Immigration
(CAII). If you would like to
participate, please go to the above link to learn more. Afterwards,
email stiknstein-at-gmail-dot-com and let us know at what level you
would like to participate.